Filter by Category
Cooking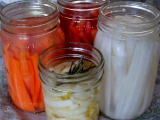 Slice it, Salt it, Stomp it!
with Mary Margaret Ripley

Mar 1, 2018 at 6:30 pm
Fermented veggies are becoming all the rage. That's funny since fermentation is one of the oldest, tastiest and most fun ways to preserve food. Do it yourself with easy ingredients for a fraction of the cost of buying it at the store. In this hands-on class you'll learn how to slice, salt, and stomp your way into your own fermented creations like sauerkraut, kimchi, and more. Come on y'all, even babies love this stuff! Optional: bring cutting board, knife, large mixing bowl, quart jar. Mary Margaret Ripley and her family like to have fermented foods as a part of their everyday lives. Since 2006 she has fermented many kinds of foods, especially veggies from her family farm. Join her for a busy, fun, and friendly class that just might get you hooked, too!
Will run
Worm Bin Boot Camp
with Trisha Smith

Feb 1, 2018 at 4 pm
Looking for a fun and easy way to turn vegetable scraps into plant food? Join Jock Robie (The Worm Bin Guy) for this hands-on workshop and learn to construct and set up, maintain and harvest a worm bin. Jock will also discuss harvesting worm castings and vermicompost for gardening and houseplants, as well as how to make and use "worm tea." 10 participants will go home with a populated worm bin; everyone will go home with more knowledge and enthusiasm for vermiculture! Jock Robie is a retired chemical engineer and has documented his process of designing, building, and using worm bins to compost kitchen waste since 2011. His worms live in 40 bins and process close to 35 pounds of kitchen scraps each week. Visit Jock's blog at mainelywormbins.blogspot.com to learn more about his vermiculture methods.
Full Course