Filter by Category
Arts & Crafts
Masterpieces and Messages Paint and Pour Evening Spring 2022
with Angie Butler Welch

May 31, 2022 at 6 pm

, runs for 1 week
Angie will walk you step by step through your painting, giving you a variety of choices on colors and even canvas size, and because Angie is a professional Medium and Psychic, everyone will receive a mini intuitive reading/message based on their painting! It's amazing the insight, healing and guidance that comes through, just from YOUR painting! Psychic Medium and Intuitive Artist, Angie Butler Welch owns Leap of Faith Soul Space in Brewer, Maine. All materials are provided. Please visit www.angiewelch.com for more info. Paint & Pour Choose from a feather or a simple "Paint & Pour" design.
Will run
Candle Magic and Manifestation Spring 2022
with Angie Butler Welch

Jun 7, 2022 at 6 pm

, runs for 1 week
It's not just a cliche - what you think about, you really do bring about. In this interactive class we will discuss how to clearly direct your energetic thoughts and how adding in the element of fire is an effective way to manifest things in your life. Participants will learn: various candle colors, what to use them for, how to prepare your candle for manifesting, and when the best times are in which to burn your specific candles. We will each create 2 different manifestation candles depending on the kind of change you want to create. Abundance, attracting love into your life, overcoming obstacles, and conquering fear are just a few desires you can manifest.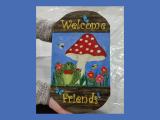 Welcome Friends Sign Spring 2022
with Michelle Cross

Jun 9, 2022 at 2 pm

, runs for 5 weeks
Michelle Cross is a retired educator who has a lifelong passion for crafting of all types. Creating beautiful works of art with friends is sure to make these classes a pleasure for students of all levels. Materials are provided by Michelle. Please bring your own paint and brushes. This adorable sign will welcome everyone to your home or camp with its colorful critters and flowers. Sign measures 12"x7".
Register for one, two, or all three of Michelle's classes!