Filter by Category
Exercise & Outdoor Fun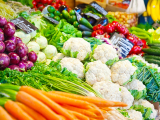 Grow Your Own Organic Garden
with MOFGA

Apr 3, 2019 at 6 pm
Interested in learning how to grow your own vegetables in a sustainable manner?
Join us for an evening-long workshop on how to grow your own garden organically. We'll talk about the basics of soil science and how to enrich your soil to produce healthy, high-yielding plants. The course will also cover the fundamentals of making and using compost, the principles of crop rotation and how to incorporate green manures to manage nutrients in the garden. Other topics will include how to tell the difference between cultivated plants and weeds, basic weed control strategies and cultural methods for dealing with pests.  The instructor will be an experienced farmer or gardener from your region. We will even send you home with free seeds! All are welcome, from first-timers to experienced gardeners who want to experiment with new techniques.
Will run
Registration Unavailable
Maine Guide Course with Northeast Whitewater
with Northeast Whitewater

Apr 13, 2019 at 8 am
What does it mean to become a Registered Maine Guide and why take this course? Northeast Whitewater Lodge & Guide Service is holding a 3-day course for students to learn and perfect what you need to know to successfully pass the State administered Registered Maine Guide exam; including map & compass, lost person/catastrophic event portion, watercraft laws, trip planning, safety, risk management, camping, outdoor cooking, rules and regulations, canoeing skills, the business side of guiding and more! Our guide service, located in Shirley Maine, is hiring both full time and part time recreation guides beginning in May to work guiding ATV tours, canoeing and kayaking trips and stand up paddle board trips and classes. Interested individuals will be given the opportunity, after the course, to obtain on the job training while working as a Naturalist (guide in training) until they have obtained their State of Maine recreation guides license (within appropriate time frame). Our 3-day guide training course is a hands on learning experience with classroom time spent both in and outdoor for scenarios and learning practices. This course teaches the required tools to take the State of Maine administered written test and oral boards. State of Maine testing and license fees are NOT included. In order to sign up for our Registered Maine Recreation Guide Training Program, you must call 207-695-0151 and provide the following: Northeast Whitewater application form Completed State of Maine Guide Application form with current CPR and First Aid certifications or enroll in one of our Wilderness First Aid & CPR Courses - Saturday & Sunday, April 6 & 7 being held at PVAEC. Sign up quick! We only take 10 participants for our Maine Guide Course. Non-refundable payment of $350 plus a $40 supplies and materials fee (includes handbook, powerpoint, maps & compass). Reference PVAEC and receive 10% OFF course!
Registration Unavailable
Wilderness First Aid/CPR with Northeast Whitewater
with Northeast Whitewater

Apr 6, 2019 at 8 am
Our Wilderness First Aid & CPR course will help you prepare for the unexpected. This hands-on training is designed to meet the needs of Registered Maine Guides, trip leaders, summer camp staff, outdoor enthusiasts and individuals working in remote locations. It will introduce you to caring for people who become ill or injured far from medical care. Classroom lectures and demonstrations are combined with realistic scenarios where mock patients will challenge you to integrate your learning. At the end of the course, you'll have the knowledge, skills and ability to make decisions in emergency situations. Adult CPR / AED is included with all Wilderness First Aid Courses. All American Red Cross Wilderness First Aid & CPR courses are for ages 14 and older. You must sign up for all scheduled programs in advance by calling Northeast Whitewater 207-695-0151. Sign up quick! We take only 8 participants for our American Red Cross Wilderness First Aid & CPR courses. Non-refundable payment $199 plus a $38 supplies and materials fee. Reference PVAEC & receive 10% OFF course!!!