Filter by Category
Healthcare Training
Online Registration Unavailable
Certified Nursing Assistant
with Nancy Hoskins

May 16, 2022
The PVAEC State of Maine approved CNA course includes classroom work, skills labs, and clinical experience. Candidates must present either a high school diploma or HiSET/GED. Enrollment is limited to 10. The admission process includes enrollment into our Career Readiness Program, a criminal background check, placement testing, and a series of meetings with PVAEC staff. The cost of the class is $1,300, which includes tuition, textbook, background check, and state exam. Payment plans and financial assistance may be available to those who qualify.
Admittance to this course includes proof of all required vaccinations for healthcare workers, including the COVID-19 Vaccine series.
To apply, please email PVAEC Assistant Director at esalley@pvaec.org or go to www.pvaec.maineadulted.org/new-students and fill out our online enrollment form.
Class will be held at our Dexter Learning Center and will run on Monday and Wednesday evenings with some weekends required.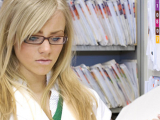 Online Registration Unavailable
Medical Transcription Certificate Program
with ACADEMY OF MEDICAL PROFESSIONS
Medical transcription is a desired field for most people trying to work at home. Strong typing,computer, and English grammar skills are essential. Medical terminology, formats, rules and regulations, jobs,calculation of pay, confidentiality, and tricks of the trade, all equipment, reference books, and course books areprovided with the course fee. Classes are once a week for 16-weeks with a completion of 16 weeks to 6 month options.This is a State Certified Program and you will receive a Certificate of Completion and Letter of Recommendation upongraduation, resumes and how to obtain a job are covered in this program. Course includes medical terminology,Anatomy & physiology and transcription. $2650, includes everything for the course and the field.
Online, Open Enrollment! For more information, or to enroll, please visit www.academyofmedicalprofessions.com
Online Registration Unavailable
Pharmacy Technician Certificate
with ACADEMY OF MEDICAL PROFESSIONS
All Inclusive 14week program.
Work One-On-One with a Pharmacy Technician Trainer and entirely online. Pharmacy Technician isone of the fastest growing jobs in health care today. In this course, you will learn everything from therole of the technician in the pharmacy setting, to the basic sciences at the core of pharmacy practice,to preparing for the PTCB exam. You will learn complete drug information that includes proper name,spelling and pronunciation, drug class, generic and trade name, route of administration, dosage andmore of hundreds of drugs. You will be able to identify pills on sight with pill photos, gain a betterunderstanding of how certain drugs work within the body with a concise review of relevant anatomyand physiology, and stay up to date with cutting-edge pharmacy practice with the latest informationon new drugs, regulations, HIPAA guidelines and safety procedures. You will be ready to pass yourPTCB national certification included in cost. $2,050.00.For more information contact the Academy of Medical Professions, Inc. All materials included in feeincluding National Certification Exam fee.
Online, open enrollment!
TO REGISTER OR PAYMENT PLANS CALL TheAcademy of Medical Professions, Inc 866-516-8274 or www.academyofmedicalprofessions.com