Filter by Category
Computers and Technology
Online Registration Unavailable
Intro to Microsoft Access 2010 ONLINE
with _ed2go _ed2go
Take control over your data! Whether you're a novice or an experienced database user, this course will show you how to harness the full power of Microsoft Access 2010. In these practical and project-oriented lessons, you'll learn how to use this award-winning MS Office software to create and customize tables. You'll build relationships between your tables to eliminate redundancies and slash data entry time. And you'll discover how to achieve huge reductions in data entry errors by setting default values, creating validation rules, and building input masks. In addition, you'll find out how to make your database more user-friendly with custom data entry forms, smart lists, and other sophisticated controls. You'll learn how to retrieve exactly what you need from your database with powerful queries and reports, and you'll even start automating routine tasks with labor-saving macros. By the time you've finished this course, you'll know how to create an effective database for any information you need to store, document, and manage—at home or on the job.
To register, go to: http://www.ed2go.com/pvaec/online-courses/microsoft-access-2010-introduction?tab=detail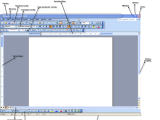 Online Registration Unavailable
Intro to MS Word 2010 ONLINE
with _ed2go _ed2go
Intro to MS Word 2010 ONLINE
Master the basics of the word processor PC Magazine ranked as one of the "strongest and most intelligent programs ever written." In this hands-on workshop, you'll learn how to add, move through, and edit text; move words from one part of your document to another; work on two or more documents simultaneously; change the size or appearance of text; change margins and tab settings; automatically center, right align, justify, and indent text; run the integrated grammar and spelling checker; use the thesaurus; and save, retrieve, copy, organize, and print your documents. By the time you're done with the step-by-step lessons and hands-on activities in this course, you'll be able to use Word confidently at home or on the job.
To register, go to: http://www.ed2go.com/pvaec/online-courses/microsoft-word-2010-introduction?tab=detail