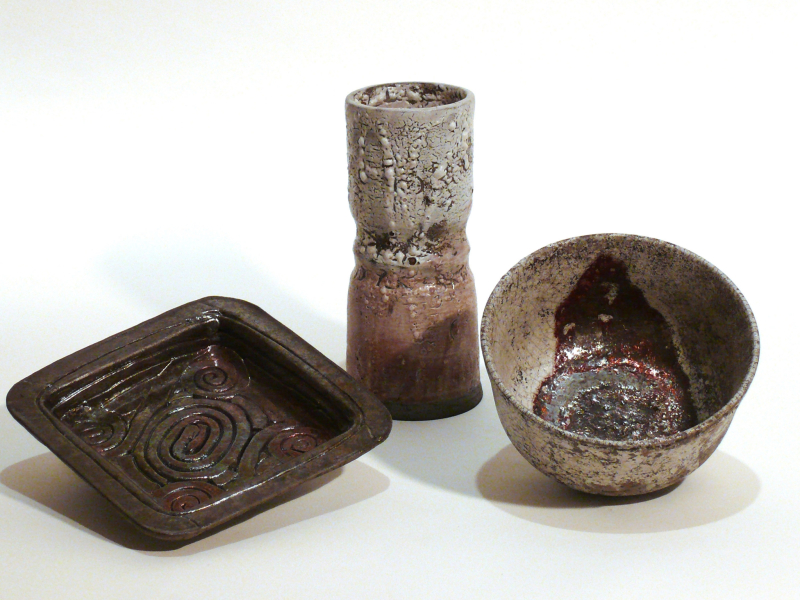 Raku Pottery Spring 2018
with Jemma Gascoine
$11000
The Raku class starts at the Monson Arts Center on April 26th from 4.30 - 7pm and runs until June 7th with the raku firing on June 9th. The class will be mainly a hand-building class so no experience is necessary but there are potters wheels available if students want to 'have a go'. All clay, glaze and firing costs are included in the tuition which is $110.
Raku dates back to the 16th century Japanese Tea Ceremony and means 'Joy'. It's a low-fire process whereby the glazes produce metallic lusters and crackling. No two pots ever come out the same. With Raku firing, the potter removes the vessel from the kiln while it is still very hot, red, and glowing. He or she then uses tongs to move the piece from the kiln to a prepped trash can or 'reduction chamber' with combustible materials inside.
It's fun but it's messy so wear old clothes or bring an apron and tie hair back. Bring clean up rags and any pottery tools if you have them. It's not as easy as it looks so bring some patience too!
Apr

26

-

Jun

7th

,

2018

Thu

for

7 weeks

from

4:30 - 7:00 pm
Monson Community Center
35 Greenville Rd
Monson, ME 04464 Get directions